Tire Rotation Service in Oklahoma City, OK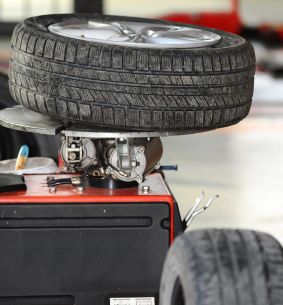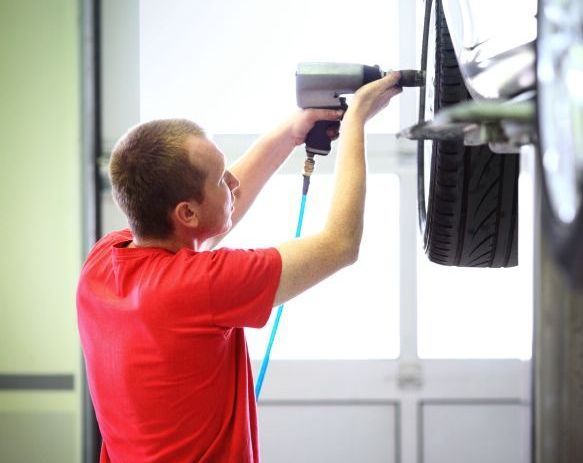 Service Hours
405-492-6956
| | |
| --- | --- |
| Monday | 7:00 am - 6:00 pm |
| Tuesday | 7:00 am - 6:00 pm |
| Wednesday | 7:00 am - 6:00 pm |
| Thursday | 7:00 am - 6:00 pm |
| Friday | 7:00 am - 6:00 pm |
| Saturday | 8:00 am - 1:00 pm |
| Sunday | Closed |
Tire rotations are typically one of the most neglected maintenance on every vehicle, but it is one that can save you plenty of money over time. Get your tire rotation here at Boomer Kia to help make your current set last even longer. Our knowledgeable technicians take pride in granting you the service you deserve so don't hesitate to come on down! We look forward to your visit.
There are several reasons you should get your tires rotated regularly, the main concern being your tread condition. Your front tires tend to wear quicker than the rear tires, especially on the outside edges from left and right turns. Since the ones in the back simply follow the front two rubbers, you can find yourself replacing the front two way earlier than you would the back. Rotating your tires help to counter this uneven wear by switching the back two to the front and vice versa. This, in turn, will increase your handling for a smoother drive.
Once you have decided it is time, we have made it as easy as possible to make an appointment with our team. Our online scheduler is easy-to-use and designed to meet your needs. If you prefer, you can always simply give us a call at 405-492-6956 to schedule a date and time that would suit you best. If you aren't quite sure whether or not it is about that time to get your rubbers rotated, you can always utilize our Ask a Tech form. All you have to do is navigate to the top of your screen and select the Service tab. After that, click on the Ask a Tech link and fill out a few empty fields to get yourself started. Once you submit your question, our team of expert technicians will work towards giving you the most informative answer possible.
Of course, if you would rather make your own assessment from home, we have a simple test that will give you all of the information you need when it comes to your tires needing to be rotated. All you have to do is grab a penny and hold it with Lincoln's head facing the tire. Next, insert the penny into the tread and take a quick peek at how much of Lincoln's head is showing. If you can see his entire head, your traction on the road is very low, and a rotation is necessary!
What are you waiting for? Take to the streets with the grip that you deserve when you stop by for a tire rotation service in Oklahoma City, OK. Our team at Boomer Kia is raring and ready to take care of all of your maintenance needs starting today! We are located at 339 SW 74th Street in Oklahoma City, OK.
Testimonials
GOOGLE
7-2-2020
GOOGLE
7-2-2020
GOOGLE
7-1-2020
GOOGLE
7-1-2020
GOOGLE
7-1-2020
GOOGLE
7-1-2020
GOOGLE
6-30-2020
GOOGLE
6-27-2020
GOOGLE
6-25-2020
GOOGLE
6-24-2020
GOOGLE
6-21-2020
GOOGLE
6-21-2020
GOOGLE
6-20-2020
GOOGLE
6-20-2020
GOOGLE
6-20-2020
GOOGLE
6-20-2020
GOOGLE
6-20-2020
GOOGLE
6-20-2020
GOOGLE
6-20-2020
GOOGLE
6-19-2020
GOOGLE
6-17-2020
GOOGLE
6-16-2020
GOOGLE
6-14-2020
GOOGLE
6-13-2020
GOOGLE
6-12-2020
GOOGLE
6-10-2020
GOOGLE
6-10-2020
GOOGLE
6-10-2020
GOOGLE
6-9-2020
GOOGLE
6-6-2020
GOOGLE
6-6-2020
GOOGLE
6-6-2020
GOOGLE
6-6-2020
GOOGLE
6-5-2020
GOOGLE
6-4-2020
GOOGLE
6-3-2020
Read More